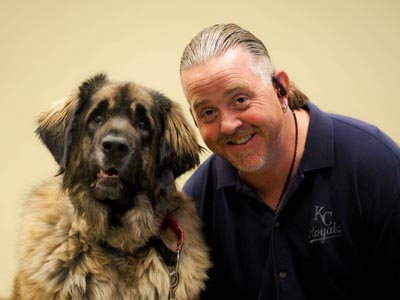 Public Speaking
Regular Fees start at $200.00 per hour for public speaking. Expenses such as travel and room and board are covered by the client. Custom pricing plans are available.
All topics are approximately 2-3 hours in length, and depending on Q & A time. You can mix and match to customize the desired length of presentation. Depending on scope and time available, each can be shortened or lengthened to suite your needs. We are also always willing to take on custom topics if you want something not listed.
Discounted rates are available for contract users: Those who use KISS Dog Training Speaking Engagements multiple times in a calendar year. Please call our office at 913-269-7595, fill out the form below, or e-mail us, for more information.
Public Speaking Contact Form
What folks say about Mike
We enjoyed having you here to celebrate Animal Friends week 2019! Look forward to future Lunch-n-Learns! Mary M, Human Resources Assistant, Seaboard Corp.
A BIG THANK YOU to Mike Deathe at KISS DOG TRAINING for the great seminar today. Always enjoy Mike's seminars! He is a great speaker and makes training SIMPLE and easy to understand. Thanks, Mike!    Sharon W,  Program Director, Pets for Life. 
We loved the Babies Don't Bark Seminar! So helpful and educational! Made bringing our new baby home to our fur baby so much less stressful!  Katie
I thoroughly enjoyed the presentation you conducted for Pets for Life volunteers on Saturday. It was very informative and helpful.  I came away with two very helpful hints that I will use with Stanton.  I wish I could have taken your classes years ago when I brought my first yellow Lab, Niki, into our home! Martha L, Canine Companions for Independence, Volunteer.
 I would HIGHLY recommend Babies Don't Bark to anyone who has a dog at home and a baby on the way. We learned SO much about how we can prepare our dogs for the new baby. The part that I brought home, and enjoyed the most is respecting my dogs' needs, their limitations, and their speed for accepting new changes. A new baby is a HUGE change for EVERYONE in the household, but it can be harder on dogs… it takes a lot of time to communicate with them about the change and the time is NOW to start adapting their lives.
Mike is our most popular webinar host every year and we always get questions about when he'll be back. He's super knowledgeable but also makes all the information really accessible for even the most frustrated dog parents! If you're still on the fence, my advice is to jump on in and hire Mike. 
Popular Speaking Topics!
Potty Training
Everything you wanted to know about why Fido is going in the wrong spot, and how to get him going in the right spot!
5 Steps to the Perfect Pet
So you have a new dog! Or an old dog! …That isn't listening. Not sure where to start? Let us get you on the right path!
Dog Training 101
Introduction to positive reinforcement-based dog training: Terminology, techniques and questions answered! Also, how to manage clients' expectations.
Dogs Only Do What Works
People have to remember and realize that dogs only invest time in things that work. What does that mean? If your dog has a problem behavior, you are inadvertently or accidentally rewarding the wrong behavior!
Hand-Feeding Your Dog
It's all about resource control, paying attention, and learning some impulse control. Learn how getting rid of the food bowl for 30 days can have a huge benefit for you and your dog!
Shelter Volunteer Training
Maximizing the effectiveness of volunteers, so that more dogs can find their Forever Home! We will also cover Body Language to help folks stay safe.
Animal Control Officer Training
A talk geared for ACO's and what they would want to ask a dog trainer. Particularly how and what to say to residents when problems arise. Tips, tricks and techniques for dealing with not only dogs, but also their owners!
Dogs that won't come back
Got a dog that just takes off when there is not a leash involved? We can teach you how to have a reliable recall with your pooch!
Dogs that pull on the leash
Tired of your dog walking you? Let us help you learn to walk your dog, rather than the other way around!
Dogs that jump up
Does your pooch jump up on you and your guests? Well you gotta teach him how to politely say hello! Let us help.
Adventures in Dog Training
All the mistakes I've made in this business. God knows people should learn from others' mistakes! Let me help by sharing my own struggles and successes. Maybe you can get to your goals faster by avoiding my pit falls. 🙂
Kids and K9's
You made it through the pregnancy and infancy, but now the family dog is having to deal with a child who is mobile! The real interaction issues with dogs and kids occur when a child's mobility and independence develop.
Babies Don't Bark!
Learn how to prepare your dog for the new baby's arrival! Understand dog body language basics, and solve attention-seeking behavior. This class clears up myths, emphasizes realistic expectations, and sets new parents and family dogs up for success, even before the baby arrives!
Leo and I: A therapy dog team
Can you pick a therapy dog? Can you pick the kind of therapy to do? Or is all that up to your pooch? The how, what, why, when and where of doing therapy work with your dog.