Dog Training In Shawnee: 3 Tips to Successfully Train Your Old Dog
Dog Training in Shawnee: 3 Tips to Successfully Train Your Old Dog – You've probably heard the term, "you can't teach an old dog new tricks," but did you know this saying actually isn't true? According to dog training in Shawnee experts, training an older dog is possible if you have the right attitude and approach. Training is especially important if you are looking to adopt or foster older dogs or if you're considering adding a new puppy to your family.
At K.I.S.S. Dog Training, we are proud to be a leading dog behavior specialist in Shawnee; we believe that dogs are only as good as their owners; that's why we stick to our motto, "keep it simple, stupid!" We understand that you want to provide your dog with the best life possible; that's why we also offer books to help boost and enrich training sessions with your pup.
A leading dog trainer in Shawnee believes that it's entirely possible to teach your old dog new tricks; you just have to make sure you do it correctly. That's why we've compiled a list of 3 tips to successfully train your senior dog.
1. Figure Out What Your Dog Already Knows
According to a dog training in Shawnee expert, it's important to figure out what your older dog already knows before you start training them. This tip mainly applies to owners who recently adopted or fostered their senior dogs. In order to make sure that you get the most out of your training sessions, it's important to learn what tricks and mannerisms your pet already knows.
A Shawnee dog trainer believes that you should easily be able to tell if your dog has general household manners and their bathroom habits. You should also see if they respond to basic commands like sit, stay, and lay down. It's important to take the habits and tricks that they already know into account, then start training them on new things.
2. Make a Schedule
According to a leading dog training in Shawnee expert, creating a training schedule makes the task easier on both you and your pet. By sticking to a predictable routine, your senior dog can anticipate what's going to happen next, which can lead to quicker training success. Hand feeding your dog is a great way to bond with them and combine the feeding time routine. This means that your dog is learning while your strengthening your relationship with them. Professional dog trainers suggest trying to take your dog out at the same time every day. You should also have set mealtimes for your dog.
3. Train Them Like You Would a Puppy
Experts of Shawnee dog training believe that sometimes, training an older dog isn't much different than training a puppy. Just like a puppy, you need to let them get acquainted with their surroundings and start the potty training process immediately. Leaders of in home dog training in Shawnee also suggest taking this time to create a connection with your senior dog. Just like with puppies, training with your older dog will go much smoother if you are consistent.
Now that you know that you can teach an old dog new tricks, dog training in Shawnee experts suggest getting started immediately! Make sure you're consistent with your training and to offer them plenty of praise throughout the entire process.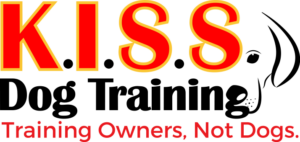 Call a Dog Training in Shawnee Expert
K.I.S.S. Dog Training has been a leading dog behavior specialist in Shawnee for over ten years. We take pride in strengthening the relationships between owners and their dogs. We believe it's essential for humans to understand what their dog needs and the best ways to help them get it.
Contact us online or give us a call at 913-269-7595 to partner with a trainer. We are located in Shawnee and service Overland Park, Olathe, and the Kansas City metro area.
65 Total Views
1 Views Today
Search Blogs
Subscribe to our newsletter
Areas of Service
K.I.S.S. Dog Training proudly serves the Kansas City Metro, Overland Park and Surrounding Areas. 40 miles, 20 miles each way from Shawnee, KS is included for In-Home Sessions... Over that mileage is an additional charge of $1.00 per mile... Call with Questions
K.I.S.S. Dog Training
Shawnee, Kansas
(913) 269-7595