Kansas City Dog Training Experts on 3 Ways to Prepare Your Dog for Halloween
Kansas City Dog Training Experts on 3 Ways to Prepare Your Dog for Halloween – Did you know that Halloween is the second scariest holiday for dogs? According to Kansas City dog training experts, Halloween is a very spooky time for humans and dogs. Between scary decorations, people dressed up and costumes, and the doorbell constantly ringing, it's a very overwhelming time for dogs. Halloween may be fun for humans, but most dogs don't find the holiday as enjoyable.
According to a leading Kansas City dog trainer, your dog is more likely to get scared on Halloween night than usual, so it's best to prepare them for the festivities. At K.I.S.S. Dog Training, we are proud to be a leading dog trainer in Kansas City; we believe that dogs are only as good as their owners; that's why we stick to our motto, "keep it simple, stupid!"
We understand that Halloween can be a scary and stressful time for your pup; that's why we've compiled some tips on preparing your dog for the holiday and keeping them safe.
#1 Let Your Dog Wear Themselves Out Before the Night Starts
A dog behavior specialist in Kansas City suggests that you make sure that your dog has had plenty of exercise before the party starts. Taking them on a walk, hike, or playing with them is a great way to get their energy out so they'll be more relaxed during the evening.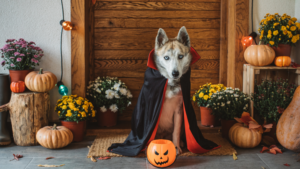 #2 Be Ready for the Doorbell to Ring
According to leaders of dog training in Kansas City, it's crucial to be prepared for your doorbell to ring, even if you aren't passing out candy. One of the best things you can do is keep your dog away from the door and distracted. If you plan to pass out candy, keep your dog in a room away from the front door and leave the television or radio playing. This is a good distraction and makes it more difficult for your dog to hear the doorbell.
If you aren't planning on passing out candy, hang out with your dog in your bedroom for the night. Bring their water and food bowl into the room and watch some movies. Your presence will comfort them greatly, making the scary night much easier to get through.
#3 Consider Skipping the Dog Costume
Experts in regular and aggressive dog training in Kansas City understand that dog costumes are cute, everyone loves to see a dachshund dressed up as a hot dog, but it might be uncomfortable for some pets. Some dogs become very uncomfortable when wearing a costume, and it's always important to put your dog's well-being first.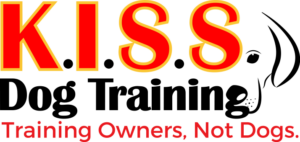 Hire a Leader of Kansas City Dog Training Today to Help Give Your Pet a Positive Motivational Experience!
K.I.S.S. Dog Training has been a leading Kansas City dog trainer for over ten years. We take pride in strengthening the relationships between owners and their dogs. We believe it's essential for humans to understand what their dog needs and the best ways to help them get it.
Contact us online or give us a call at 913-269-7595 to partner with a trainer. We are located in Shawnee and service Overland Park, Olathe, and the Kansas City metro area.
169 Total Views
2 Views Today