Luna's Life, a Dog and a Trainer 3/3/17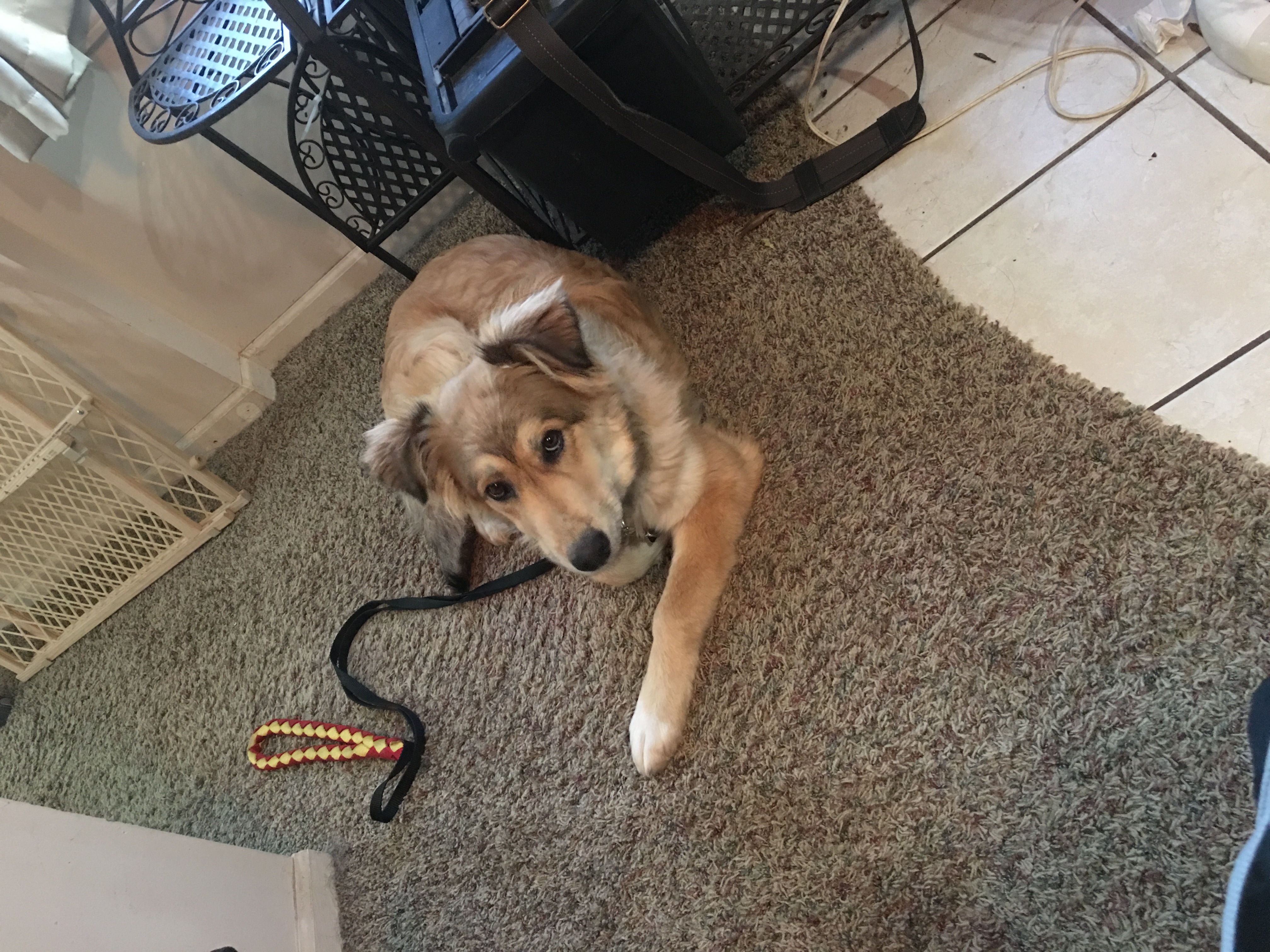 OK she is at here!!! At home… So expect a lengthy post later this weekend or on Monday about our first couple days together, or check out the Facebook page for more up to date pics and whats going on!!!
But as promised, here is the puppy socialization list that I use with my clients! A pretty important update is that I found out that Luna is probably older than we orignally thought! Originally we thought she was approx 4 month but with more examination of teeth and other things she is probably closer to 6-7 months! Why is this important? Because it would lend itself to think her fearfulness will be even harder to handle… Keep in mind Luna had three really important things going for her:
No fear aggression whatsoever she displayed avoidance and would rebound if you just stopped or slowed down
She loves other dogs…
After startling she would move in to investigate rather that staying away…..
So again while this list is for puppies, any new dog can and should be exposed to these things when you bring them into your home. If not for the socialization aspect, then for the opportunity to see where a dogs deficiencies are….
 Dog trainers warning…
Any dog showing aggression of any kind (fear, people dog, resource, etc…) should only attempt this list with a professional certified dog trainer present. Remember Socialization can be done wrong also and with cases such as these… The risk can outweigh the reward for a person not experienced with what to look for!!!!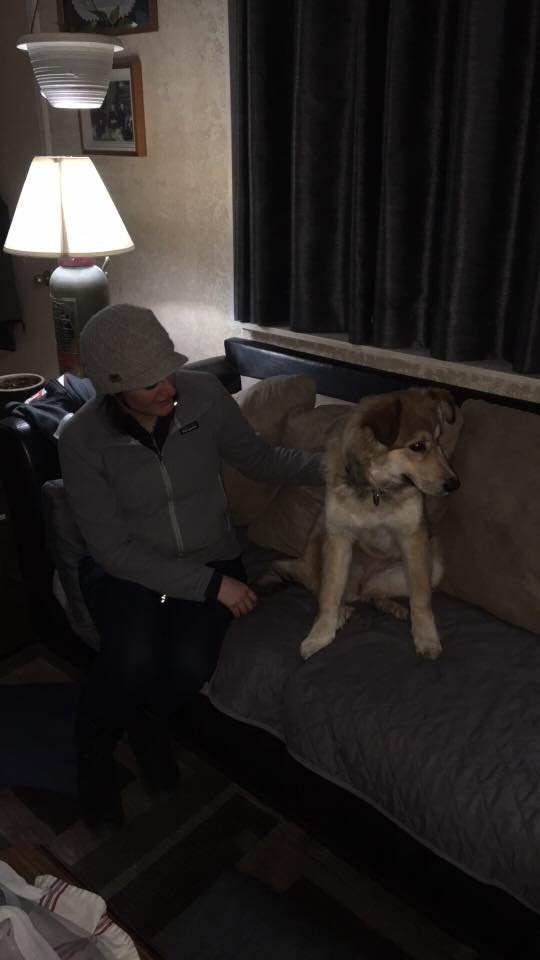 People
The big one with lots of info, but…. Your Puppy must meet 50 people a week from the age of 12 weeks to 20 weeks, and it must include: Continue
Men and Women (some are gender specific)

Beards
Hats
Glasses
Jewelry
Helmets
Cigarettes/smokers
Different ethnic groups and races
Elderly
All sizes (short, tall, large, small)
Loud
Hoodies
Backpacks
Runners
Bicyclist
Costumes
Uniforms

Police
Fire
EMT
Mail Person
UPS
Military

Folks with disabilities (things that would make motion less normal)

Kids

All age ranges (from infants to teenagers)
Groups and individuals
Standing, sitting and playing
Loud and Quiet

All interactions must be positive and associated with super yummy treats. If we allow our dogs to have a scary or bad experience during this age range you risk having a dog that will not accept this group of people as an adult
At this age dogs should be carried or in wagon, shopping cart, but not loose on the floor of strange non clean environments…
Interactions with Folks People Part 2
Holding puppy
Paws (touch)
Face (touch)
Ears (look at, touch and clean)
Teeth (look at and touch)
Tail (touch ,tug, and under yes gentle)
Hugging puppy
Touching collar
Touching and clipping nails
Checking and touching between the pads (feet)
Touching the rear legs
Brushing and Grooming
Passing the puppy to others for other human touch
Baths
Nails grinding and clipping (might take two folks one to do the other to reward)
Brushing teeth
Brushing hair backwards or wrong way
Have strangers have a conversation with the pup so that all sorts of voices are experienced
Touching puppy while around food and toys and doing lots of trading…
Visual things and Noises Items
Sirens
Car Horns Traffic
Thunderstorms
Fairs and Festivals
Wheel Chairs
Walkers
Crutches
Bikes
Skateboards
Radios and Music
Cell Phones and Ringers
Cars
Motorcycles
Doorbells
Knocking on doors
Trucks (Big and Small)
Buses
Rollerblades
Garbage cans
Shopping carts
Baby Strollers
Pots and pans
Blankets and sheets (being shook out folded and just the item)
Brooms
Hand and full size power tools
Brooms
Balloons
Umbrellas
Plastic bags shopping and trash (moving and just there)
Barking dogs
Burning wood
Crying babies
Blow up displays
Full wall mirrors
Nerf or water guns
Vacuum
Stairs
Hula hoops
Gym equipment
TV
Clapping (applause)
Yelling and shouting (sporting events)
Dropping pots and pans
Leaves blowing in the wind
Rain, Snow & all other kinds of weather
Garage doors and openers
Places
Veterinarian
Boarding Kennel
Groomer
Daycare
Pet Shop/Store
Schools
Playgrounds
Parks
Suburban Neighborhood
Residential Streets
Woods
High Traffic Area (downtown)
Parking lots
Inside Dog Friendly Businesses
Dog friendly events (trials, dog and jog, pool closings and such)

Remember not on ground but experiencing the places positively) This one is really for all items on the list. Keep the pup safe till fully vaccinated!

Dog Training Facilities/Locations
Sporting Events
Birthday Parties
Holiday celebrations
Church/Civic Center Social Events
School Events
Inside and riding in car
Inside and riding in Boat
Drive trough's at banks and restaurants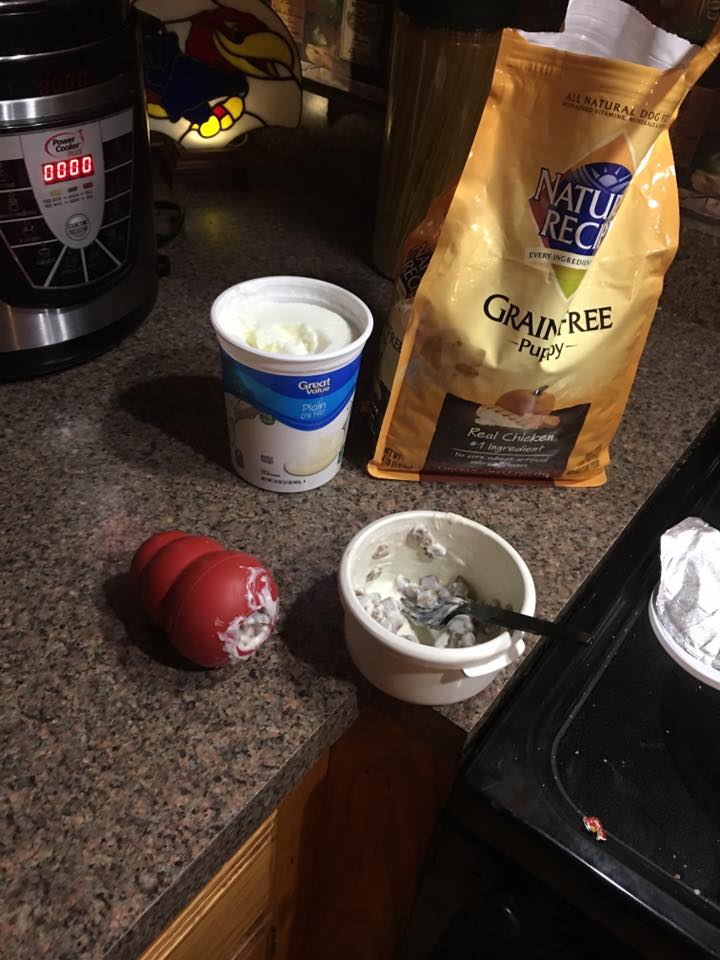 Surfaces
Dirt
Grass
Gravel
Asphalt
Sand
Tile
Concrete
Granite or Marble
Slick
Puddles or just wet
Carpet
Metal
Something a dog can see through (glass or grating)
Stairs
Escalators
Elevators
Wood
Other animals
Description
Small critters (squirrels and rabbits)
Small animals, pets (hamsters, gerbils and ferrets)
Birds (wild and pet)
Cats
Farm Animals
Geese and ducks
Reptiles
Huge dogs
Tiny Dogs
Smells
Pizza
BBQ/Grilling
Kitchen cooking
Food courts and restaurants (outdoor or allowed)
Car and Truck exhaust
Gasoline and fumes
Paint
Rubbing Alcohol
Dog Food other than yours
Something Rotten
Cleaning Supplies
Deodorizing sprays
Candles
Baby stuff (wipes diapers ointments)
Perfume/cologne
Buckle or quick release collar
Harness
Leash
Crate
Vest
Cooling Coat
Muzzles
Ex Pen
Tie outs and tethers
Boots if necessary in your neck of the woods
3542 Total Views
2 Views Today