Puppy Training In Kansas City: Keeping a Schedule
Puppy Training in Kansas City, According to experts that specialize in puppy training in Kansas City, some dogs behave better with a consistent schedule. Routines can help your puppy anticipate what happens next and could lessen any anxiety they are feeling. Many puppies thrive on a schedule, so it's important to create one that is both nurturing and stimulating.
At K.I.S.S Dog Training, one of the top resources for dog training in Kansas City, we believe that each dog is only as good as their owner. That's why we stick to our motto, "Keep It Simple, Stupid!" One of the simplest ways to help your puppy thrive is to develop a daily routine for them. An effective daily routine should include scheduled playtimes, mealtimes, and other stimulating activities.
Kiss Your Dumb Master Goodbye. Kansas City Dog Training.
"Why Does Your Puppy Need a Schedule?"
According to a Kansas City dog trainer, schedules are a great tool to help your puppy adjust to their new home. It can be overwhelming for them when they enter a new environment, so getting them comfortable as quickly as possible is essential.
Having a daily schedule is vital to helping your dog learn potty training, mealtimes, and other vital aspects of the day. Repeated inconsistencies can cause your puppy to become stressed, leading to unpredictable accidents and behaviors such as separation anxiety or nipping.

What You Should Include in Your Puppy's Schedule according to Puppy Training in Kansas City? 
A dog trainer in Kansas City understands that developing a schedule for your puppy can be a difficult task, especially if you have never gone through the process before. We believe that certain aspects should be included in your dog's daily routine, including playtime, mealtimes, potty time, and activity time.
Playtime
Kansas City dog training experts know that it's important to schedule regular playtimes for your dog. It's essential for puppies to interact with you, run around, and release any excess energy. Playtime is also a great opportunity for you to work on developing good play manners like not nipping hands and feet.
Mealtimes
It's essential that your puppy eats around the same time every day. Young puppies typically eat three meals a day, so it's important to develop this routine early. Professional dog trainers suggest feeding your puppy once before work, directly after work, and before going to bed (if needed.)
Professional dog trainers suggest combining feeding times with hand-feeding training sessions, to provide your dog with essential two-for-one interactions. This way, you are helping your puppy learn the routines of mealtimes, while bonding with them.
Helping high energy dogs become ideal companions. Aggressive Dog Training in Kansas City
Potty Times
Puppies need to relieve themselves regularly and often thirty minutes after they finish eating. Allotted potty times should be one of the first things you teach your new pet, making the process easier.
According to experts, a three-month-old puppy should be taken outside every 90 minutes. The older the dog gets, the longer they should be able to wait between bathroom breaks.
Activity Times
It's vital that your puppy has more enrichment than just playtime. Dog trainers suggest doing multiple activities with your dog every day. Taking them on a walk is an excellent way to socialize them and help them learn to walk on a leash. You should also buy enrichment toys for them.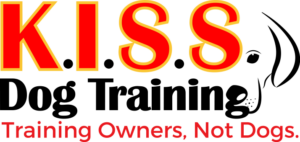 K.I.S.S. Dog Training has been a reliable source for dog training in Kansas City for over ten years. Our staff takes pride in strengthening the relationships between owners and their dogs. We believe it's essential for humans to understand what their dog needs and the best ways to help them get it.
KISS Dog Training offers positive, scientific and motivational dog training in Kansas City techniques that focus on you, the owner, being able to fix the problems between you and Fido. We are your Dog Behavior Specialist in Kansas City.
 We offer both private instruction as well as group sessions. We serve the Greater Kansas City metro and surrounding areas and even offer in home dog training in Kansas City.  Contact us online or give us a call at 913-269-7595 to partner with a trainer. We are located in Shawnee and service Overland Park, Olathe, and the Kansas City metro area. 
893 Total Views
2 Views Today
Tags In
Search Blogs
Most Popular Posts
Purchase Gift Certificate
Areas of Service
K.I.S.S. Dog Training proudly serves the Kansas City Metro, Overland Park and Surrounding Areas. 40 miles, 20 miles each way from Shawnee, KS is included for In-Home Sessions... Over that mileage is an additional charge of $1.00 per mile... Call with Questions
K.I.S.S. Dog Training
Shawnee, Kansas
(913) 269-7595