3 Reasons to Be Thankful for Your Kansas City Dog Trainer This Holiday Season
3 Reasons to Be Thankful for Your Kansas City Dog Trainer This Holiday Season – A trusted Kansas City dog trainer can be a blessing for many families. All dogs can benefit from training sessions; whether their quiet and timid, playful and active, or tend to be aggressive, it's never a bad idea to hire a dog trainer to work with your pet. It's never too late to enroll your dog in obedience lessons.
At K.I.S.S. Dog Training, we are proud to be leaders of dog training in Kansas City; we believe that dogs are only as good as their owners; that's why we stick to our motto, "keep it simple, stupid!" We believe dog training should teach your pet correct behaviors at the outset, and reward them, rather than waiting for them to make a mistake you need to correct.
Dog training is just as important for the owner because it teaches them how to redirect the bad behaviors into more acceptable ones that you can reward. This will help teach your dog to make better choices, which will make both of you happy.
We believe obedience lessons are a valuable asset to all dog owners; that's why we've compiled three common reasons our customers are thankful for our expert Kansas City dog training.
Why Is Dog Training Important?
Having an adequately trained dog is important for many reasons. It's an essential step in building your pup's confidence, strengthens the bond between dog and owner, and helps keep your pet mentally stimulated. Training is also a good way to prepare your dog for new social interactions.
Training Can Keep Your Dog Safe
According to dog training in Kansas City experts, proper training can help keep your dog safe. The better you control your dog with voice commands, the safer they can be off-leash. Making sure your dog is properly trained can also prevent accidents like running away from home, running in front of a car, or nipping someone.
Training Can Make It Easier To Board Your Dog
Dog training experts suggest getting your pet puppy training in Kansas City as soon as possible because it can make it easier when you go out of town. Unfortunately, not all places are pet friendly, so your pup might have to sit some vacations out.
A successfully trained dog should be able to follow the commands of others when you're not around. This will make it much easier to keep your pup safe and happy when you're not around.
Training Can Make Your Dog More Social
Hiring experts of in home dog training in Kansas City can make it easier to take your dog outside of the house to meet more people. Training can help your dog learn and understand the boundaries of other dogs and people, making them more approachable. Proper training can also help your pup feel more comfortable around new people and animals.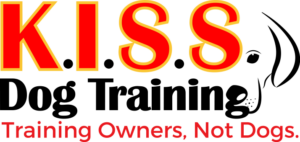 Hire a Leading Kansas City Dog Trainer Today to Help Give Your Pet a Positive Motivational Experience!
K.I.S.S. Dog Training has been a leading dog trainer in Kansas City for over ten years. We take pride in strengthening the relationships between owners and their dogs. We believe it's essential for humans to understand what their dog needs and the best ways to help them get it. Make sure to pick up our books to help make your training sessions go easier!
Contact us online or give us a call at 913-269-7595 to partner with a trainer. We are located in Shawnee and service Overland Park, Olathe, and the Kansas City metro area.
232 Total Views
1 Views Today
Search Blogs
Most Popular Posts
Subscribe to our newsletter
Quick Service Form
Purchase Gift Certificate
Areas of Service
K.I.S.S. Dog Training proudly serves the Kansas City Metro, Overland Park and Surrounding Areas. 40 miles, 20 miles each way from Shawnee, KS is included for In-Home Sessions... Over that mileage is an additional charge of $1.00 per mile... Call with Questions
K.I.S.S. Dog Training
Shawnee, Kansas
(913) 269-7595